MASSAPEQUA PARK Instructors
We take pride in our team of university-trained instructors, who use their professional experience as both educators and performers to foster each student's music education. They are qualified to teach students of all ages, from toddlers to adults. Our instructors are versatile in all styles of music, from classical to jazz to rock and everything in between. Whether you are a novice or have been playing for years, we will help you achieve your musical goals.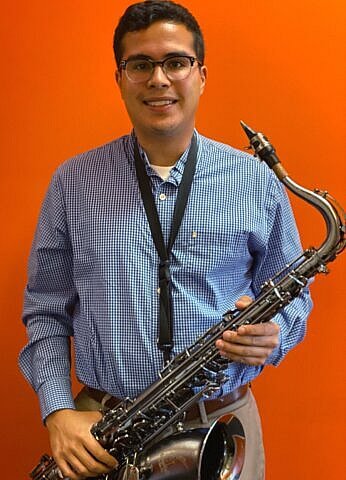 Adam Allen
Woodwinds/ Brass
University of Notre Dame
Adam has been playing the saxophone for over eleven years, and he began teaching private lessons in all woodwinds and brass instruments about 5 years ago while at the University of Notre Dame. He also taught and performed abroad in South Africa and at Lindisfarne College in Hastings, New Zealand. Since graduating, he has obtained a certification to teach K-12 Music in New York. While in Notre Dame, Adam played in the marching band, concert band, and jazz band and performed in many locations including Symphony Hall in Boston, Fenway Park, and several NFL football stadiums. He also currently plays tenor saxophone in the Northwinds Symphonic Band. Adam currently serves as a band director for the Paul Effman Music Service, teaching in nine private schools across Queens and Long Island. Each year he prepares woodwinds and brass students, kindergarten through eighth grade, for Christmas and Spring Concerts. Several of Adam's students have gone on to successfully participate in NYSSMA. Music is all around us and Adam believes that the main part of a music teacher's job is to find different ways that every student can connect to music. Once that personal connection is found, practice becomes fun, and students can successfully perform and master new musical concepts.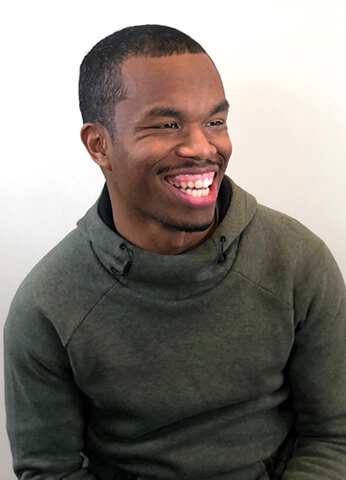 AJ Valcin
Piano
Union College, Nebraska
Since the age of four, AJ has extensively studied the piano with many renowned instructors. At age ten, he started establishing himself as a church accompanist, beginning in traditional formats, and later expanding to modern types. Music ministry has been the core of AJ's musicianship; he even took on leadership roles for small music groups during college.
By combining a classically trained background with modern creative knowledge, AJ has always felt the importance of applying theory-based music education to modern contexts. His speciality is piano improvisation, and that is 100% credited to his music theory and ear training education.
For AJ, the learning experience is about relieving yourself from the burden of perfection. It is much better to embrace the inevitable hiccups along the way. The purest form of learning is embracing who you are, and allowing others to help you on the journey to be even better.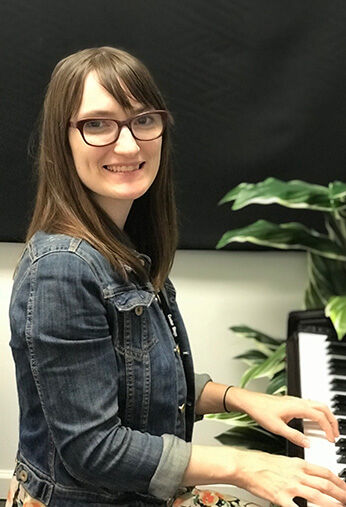 Beth Keyes
Little Stages & Music Storytime Director/Piano/ Guitar/ Oboe/ Flute
City University of New York
Beth is a music educator, multi-instrumentalist, and scholar who has been teaching private lessons for over fourteen years. Since beginning piano lessons at the age of four, Beth has also become an accomplished performer on the flute, oboe, English horn, and guitar. After being awarded a full, four-year scholarship to attend Brooklyn College in the Fall of 2004, Beth spent her undergraduate education studying both performance and music education. She was accepted into the Ph.D program in Musicology at the City University of New York's Graduate Center in 2009. Since then, Beth has continued along two complementary paths. First, as a doctoral candidate, she has been an active scholar in the field of musicology and is currently finishing her dissertation work on madness in music of the 19th and 20th centuries. Second, as an educator, she has worked with dozens of students across New York City and Long Island as both a private teacher and classroom instructor. Though Beth has taught students of various ages, skill levels, and with a diverse range of musical interests, she has focused her teaching philosophy on catering to the individual needs of each one of her pupils across musical curricula. Her private students have thrived in their musical pursuits, participating in local music festivals such as NYSSMA and SCMEA, performing in school and private recitals, and successfully auditioning for university level music programs. In addition to private teaching, Beth has also been an adjunct instructor at Brooklyn College and Hunter College since 2014, teaching undergraduate classes in music appreciation, American music, and keyboard methodology.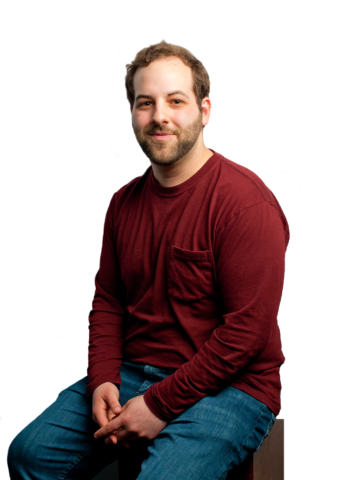 Daniel Passadino
Piano/ Drums/ Trumpet/ Guitar/ Bass Guitar
Queens College, Aaron Copland School of Music
Daniel has been playing the piano for over fifteen years and is finishing his Bachelor's degree in Music Education at Queens College; Aaron Copland School of Music.  Experienced in many genres of music, such as classical, jazz and musical theater, Daniel is able to offer his students a comprehensive education. A multi-talented instrumentalist, Daniel is also proficient in the drums, guitar, bass and trumpet. Daniel has played piano, bass and guitar in various rock bands across Long Island, and also plays the drums and trumpet in the Queens College Wind Ensemble. He has also worked in various theaters across Long Island for over six years as a musical director and pit musician. Daniel believes that the teacher is the most important factor in whether or not a student continues pursuing music. A teacher has the responsibility to make learning music fun and enjoyable for all students and Daniel hopes that he can instill a passion for music and learning in every student he has.
"Music, of all the arts, stands in a special region, unlit by any star but its own, and utterly without meaning…except its own."–Leonard Bernstein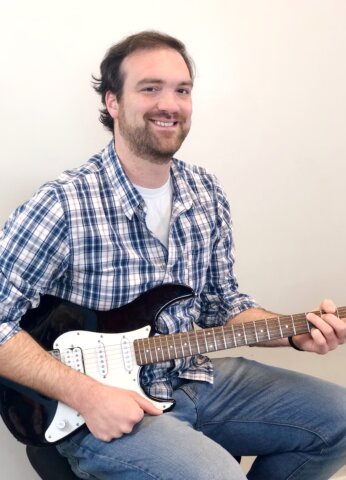 Eric Annibale
Guitar/ Bass Guitar/ Ukulele
Stony Brook University
Eric has been playing the guitar for over twenty years and has been teaching private guitar, bass and ukulele lessons for about five years. An avid performer, Eric has been playing guitar in various blues, country and rock bands for the past fifteen years. His current band, The Grand Central, has performed over 1000 gigs in 27 states across America, including being the first NY based Country band to become the House Band of the world famous Bill Bob's in Texas. As an educator, Eric prides himself on being able to motivate and inspire his students to develop a passion for performing while helping them master technical skills. He is patient and believes that learning music should be a fun experience. He hopes to instill a passion for music in each of his students that they can carry with them for the rest of their lives.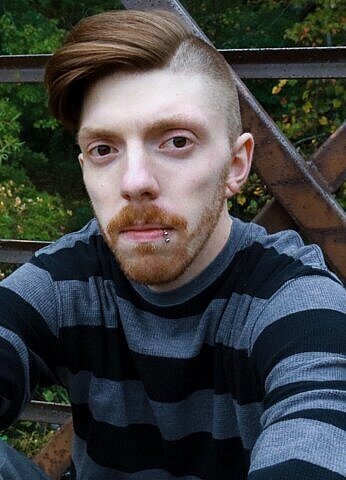 John Potocnik
Guitar/ Drums/ Band
Five Towns College
John has been teaching drums for over five years and has been playing for a decade. As a performer, he currently plays with several original bands and artist: Crash The Calm , Boxer, Phil Firetog, and Salina Solomon. Also a proficient guitarist, John has a bachelors degree in performance for classical guitar with a concentration in audio recording technology from Five Towns College. John is a qualified NYSSMA instructor and strives for exceptional success with all levels of snare drum, drum set, and guitar. John believes in a balance between progress and entertainment, having his lessons consist of: reading, listening, writing, and improvisation. He is extremely patient, friendly, and relates well to children and adults alike. He aims to not only expand student's horizons and technique, but to also connect them with other musicians so that they may further submerge themselves in the world of music and its joy.
"Choose a job you love, and you'll never have to work a day in your life" – Confucius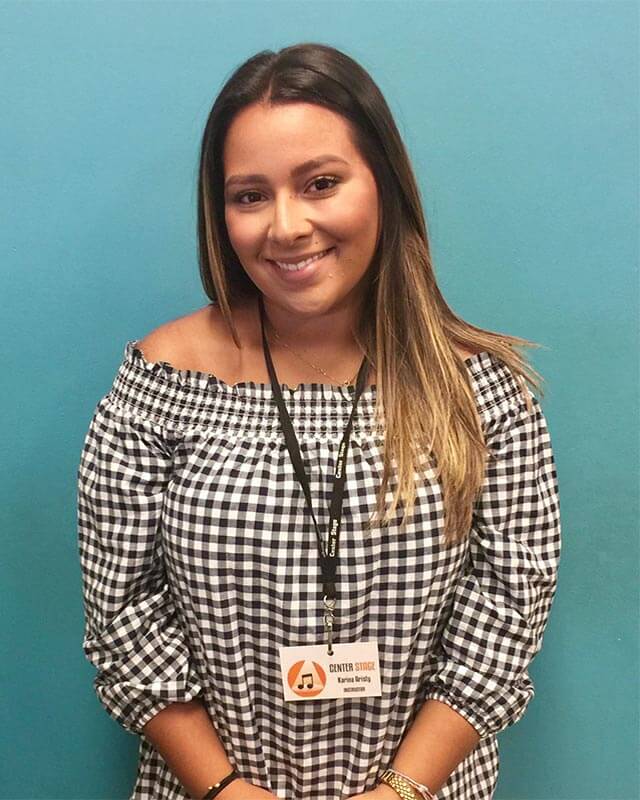 Karina Aristy
Violin/Viola/Cello
Long Island University, CW Post
Karina has been playing the violin since she was nine years old. Throughout the years she excelled within various performing groups and was given the title of Concert Mistress from grade 7 through grade 12. Throughout the years, she was a member of the Gemini Youth Symphony Orchestra, and the Usdan Orchestra IV. During her time at Post, she furthered her studies in violin, viola and cello and received her Bachelor's in Music Education. Karina has been teaching students of all ages for over seven years. She highly believes in the value of a well-rounded education and makes sure that all of her students can read, write and perform music to the best of their ability.
"Without music life would be a mistake." – F.W. Nietzsche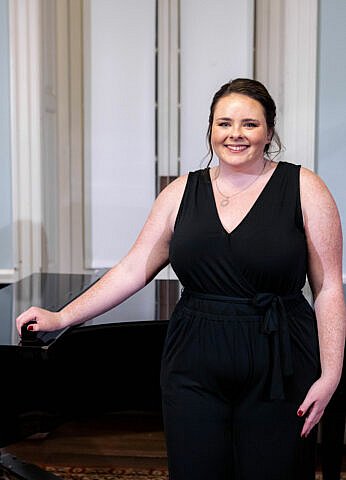 Liz Livingston
Voice/ Piano/ Guitar/ Ukulele
Westminster Choir College
Liz  is a recent graduate from Westminster Choir College of Rider University, where she received her Bachelor of Music in Music Education. From a young age, she has pursued her passion for music by studying voice, piano and guitar lessons, in addition to actively participating in musical theatre and choral programs. She is a well versed performer, as she applies her skills to various genres including classical, musical theatre and pop, as well as her original compositions. As an educator, Liz hopes to foster a positive learning environment in which students can have a joyful and transformative experience through music.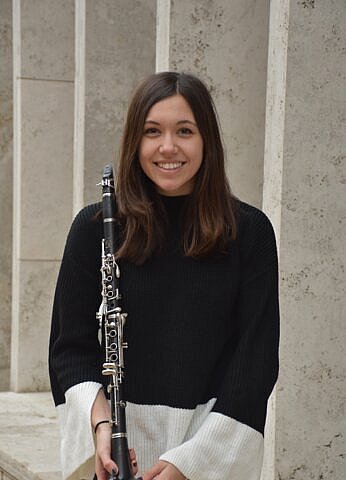 Michelle Hromin
Clarinet/ Saxophone
Mannes School of Music
Croatian-American clarinetist, Michelle Hromin is in her second year of her Bachelor of Music degree at the prestigious Mannes School of Music. She studies with Jon Manasse, who is the principal clarinetist of the American Ballet Theatre Orchestra. She was named the 1st Prize Winner of the 2019 Sidney Forrest Clarinet Competition. Michelle is also the principal clarinetist of the Mannes Orchestra, and was formerly a clarinetist in the New York Youth Symphony. In addition to her love of orchestral playing, she is a passionate solo and chamber musician in the clarinet and saxophone. Michelle has performed in Masterclasses with renowned musicians Victoria Luperi, Stephen Williamson, Dan Gilbert and Pierre Genisson. She is an avid arts educator, and has visited various schools as a performing artist. She presented instrument demos, performances, and has curated her own concert as part of the Neighborhood Classics concert series in collaboration with PS 234 in Tribeca this past year. As a teacher, she believes in the power of a positive mindset, hard work, and having fun. Music means something to each and every one of us, and all of her students carry a uniqueness that she wants to build and cultivate into a love and passion for music.
"Music is the social act of communication among people, a gesture of friendship, the strongest there is" –Malcolm Arnold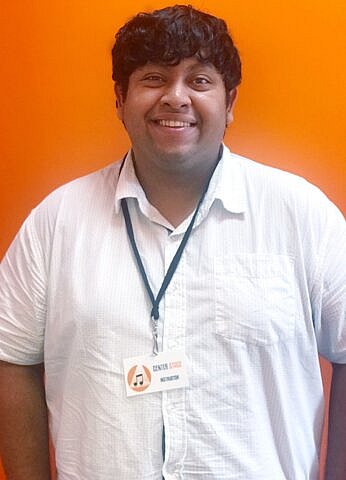 Oscar Martinez
Viola/ Violin/ Cello/ Bass
SUNY Fredonia
A music educator and active performer from Brentwood NY, Oscar received his Bachelor's Degree in Viola Performance from SUNY Fredonia. Proficient in all string instruments, he currently works with the Harmony Program at the Ella Baker school in Manhattan teaching 3rd-5th grade strings. Furthermore, he works at USDAN Summer Camp for the Arts, and is the program editor for LISFA. Oscar also teaches private lessons throughout Long Island. Within his teaching, he strives to make sure all of his students learn responsibility and always reach their goals, such as partaking in All-State. In regards to performance experience, he is an active chamber musician who plays throughout Long Island and NYC. He is currently a member of the Long Island Symphony Orchestra, and is the Principal Violist of the North Shore Symphony Orchestra.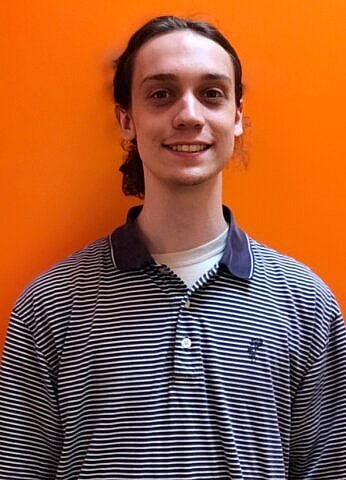 Ryan Keyes
Guitar/ Bass/ Piano/ Band
SUNY Fredonia
Ryan has been playing the guitar and bass for nearly fifteen years and recently graduated from Fredonia's School of Music with a concentration in classical guitar. As an avid performer, Ryan had many years of experience playing in the band TurnKey, which began in 2010. Switching his focus from rock to classical proved to him that many different styles can be explored within the field. Being able to combine the rock style he was familiar, with the new classical skills he was being taught, Ryan found that combining styles and genres can make the musical experience very exciting. He brings his knowledge and experience to every lesson and is able to provide his students with many different avenues to explore the instruments. His vast exposure to all different styles of music has given him the drive to teach students the mechanical works that underly their favorite music, and to help them express themselves through their own creative musical output.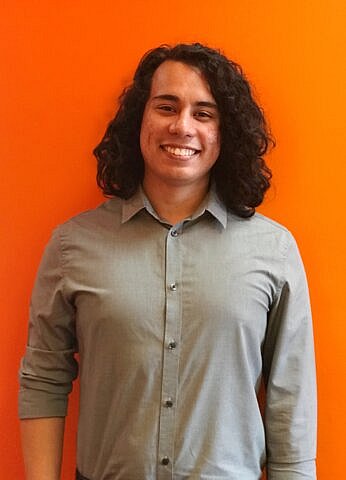 Tristan Gonzalez
Piano
Hunter College
Born and raised in Queens, New York, Tristan is a classical pianist and scholar who began studying piano at the age of eight. He graduated from Hunter College in 2018 with a B.A. in Classical Performance, while also being awarded both the "Anders Emile" award for outstanding instrumental performance, and the SAF Grant for performance research. He frequently performs as both a soloist and accompanist throughout New York City, having played in venues such as the Soapbox Gallery, Steinway Hall, Saint John's, and Lang Recital Hall. He participates in the International Keyboard Institute and Festival in New York City every year, and has participated in the Porto Pianofest in Portugal. Tristan is currently pursuing a M.A in Classical Performance at Hunter College while researching the interpretation and performance practices of Latin American classical repertoire. As a teacher, he strives to help his students explore their musical interests while nurturing their creativity and developing their technical abilities. By helping students learn pieces and songs that resonate with them, and by introducing them to music they may have never been exposed to before, he hopes for all of his students to develop into skilled musicians with great a appreciation and passion for music.
"Music begins where words are powerless to express. Music is made for the inexpressible. I want music to seem to rise from the shadows and indeed sometimes to return to them." – Claude Debussy