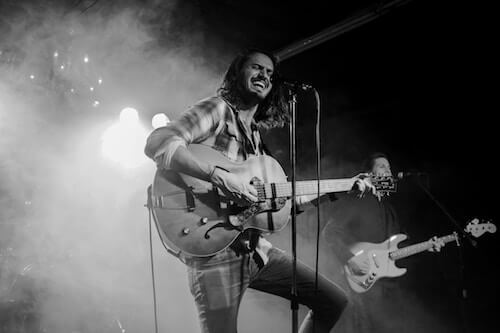 April is a big month for musical birthdays! We celebrate the birthdays of Marvin Gaye, Pharrell Williams, John Oates, Mandy Moore, Joss Stone, Chance the Rapper, Stephen Marley, Michael Franti, Barbara Streisand, and Willie Nelson. That's quite a list, and there's even more than that! Although many of these artists are from different generations and different genres of music, they are all influential to our music history. Do you share a birthday with any of these legends?
Marvin Gaye:
An American singer, songwriter and record producer born on April 2nd, 1939. Marvin Gaye has influenced music by helping to shape Motown in the 1960's. He was one of the first artists in this genre to break away from a record company. Some of his most influential and famous sounds include What's Going On, Let's Get It On and Sexual Healing. On April 1st, 1984 Marvin Gaye was fatally shot, by his father, in his home. Since his death he has won and been granted many awards and honors in the music industry.
Pharrell Williams:
An American rapper, singer, songwriter, record producer and film producer born on April 5th, 1973. Pharrell Williams is an influential person in all media outlets. He is a solo artist, as well as the front man of N*E*R*D. He has won many awards including Grammy's. Since 2014 he has been a coach on the television show, The Voice, and continues to write and produce new music.
John Oates:
An American rock, R&B and soul guitarist, singer, songwriter and record producer born on April 7th, 1948. He is most well known for being one half of the famous Hall and Oates. He famously co-wrote many of their songs, and also contributed to the soundtrack of a 1986 film "About Last Night". In 2004, John Oates was inducted into the Songwriter's Hall of Fame AND the Rock and Roll Hall of Fame as a member of Hall and Oates.
Mandy Moore:
An American singer-songwriter and actress born on April 10th, 1984. She became famous in the late 90's with her debut single "Candy", which was a staple song in that era. In 2001, Mandy had also taken a turn into the acting realm of show business. However, this didn't stop her musical artistry. By 2009, it was reported that she had sold more than 10 million records world-wide. Since then, Mandy has focused less on music and more on acting, currently staring in the hit television show "This Is Us."
Joss Stone:
An English singer, songwriter and actress born on April 11th, 1987. Joss rose to fame in the early 2000's and in October of 2009, her fourth album reached the top 10 on Billboard. By 2012 she had four consecutive albums in the Billboard 200 top 10. She won a Grammy, has been nominated five times and has won two Brit Awards.
Chance the Rapper:
An American rapper, singer, songwriter and record producer born on April 16th, 1993. Chance has only recently started to gain a lot of attention, and has gone on in to win Grammy awards in that short period of time. He is a solo rapper, as well as part of the collective "Savemoney."
Stephen Marley:
A Jamaican-American musician, son of the famous Bob Marley, born on April 20th, 1972. Although Stephen was born in Delaware, he was raised in Kingston, Jamaica. Stephen is a musician (solo and otherwise), as well as a producer. He has won eight Grammy awards. Some wins were as a solo artist, some were as a producer and some were as a band member of Ziggy Marley and The Melody Makers.
Michael Franti:
An American musician, poet, spoken word artist and singer-songwriter born on April 21st, 1966. Michael is the creator and lead singer of his band/project Michael Franti & Spearhead which combines an array of musical styles into one. The band started with Capitol Records as Spearhead, but later parted ways due to differences. They then formed their own record label, Boo Boo Wax, and re-named themselves Michael Franti and Spearhead. Michael is very outspoken on many political issues, and is an advocate for world peace.
Barbara Streisand:
An American singer, songwriter, actress and filmmaker born on April 24th, 1942. Her career has lasted six decades and has reached many achievements. She is one of the best-selling recording artists of all time. Since 1963, Barbra has had 34 top ten albums! Barbra has sold over 150 million singles and albums world wide. By the late 1960's Barbra had also set off into appearing in films as an actress where she would later become wildly successful and groundbreaking. She was the first woman to write, produce, direct and star in a major studio film in 1983!
Willie Nelson:
An American musician, singer, songwriter, actor, poet, author and activist born on April 29th, 1933. He was born during the Great Depression and was raised by his grandparents. He wrote his first song at only seven years old, and was in his first band by ten! Willie Nelson has gone on to be one of the most recognized artists in country music. He has starred in over thirty films and been a co-author of many books.
Although these artists are from many walks of life, they've all been very influential!
Below is a playlist featuring at least one song by every artist mentioned above. Check it out!

*Parental advisory may be necessary for some of the songs featured on this playlist*