Four Brilliant Minds Born in March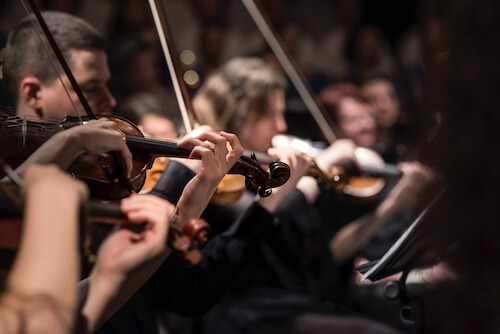 This month we celebrate the birthdays of quite a few influential composer's:
Frédéric Chopin (March 1, 1810)
Johann Sebastian Bach (March 31, 1685)
Franz Joseph Haydn (March 31, 1732)
Stephen Sondheim (March 22, 1930)
Starting with the Baroque master himself, J.S. Bach is routinely considered one of the, if not the number one most influential composer of all time. He lived a modest life in Germany and fathered twenty children! Many of them grew up to be famous musicians as well. Bach worked for royalty, but the majority of his work was for the church.
Moving along to the Classical giant, we examine Joseph Haydn. German in origin, Haydn worked for the House of Esterhazy in Prague. Haydn is often credited with creating the symphony, writing 104 of them! He also taught many younger composers such as Mozart (briefly) and Beethoven.
We continue on to one of the most famous composers of the Romantic Era, Frederic Chopin. Chopin was a virtuoso pianist, so talented at his instrument that he is the only composer known to have written solely piano music, while other composers worked on symphonies, chamber works, choral works etc. He preferred to play in parlors for aristocrats rather than give large concerts. He was half French and half Polish, but he is quoted saying that his heart remained in Poland. Chopin, like other composers, was heavily influenced by Bach, and wrote his own set of preludes!
And lastly we cover Stephen Sondheim, who is one of the most influential and popular composers of musical theater. His songwriting ability has garnished him 8 Tony awards (an unprecedented amount for a composer), 8 Grammy Awards, an Academy Award, a Pulitzer Prize, amongst other accolades. Sondheim continues his legacy by remaining an active composer and collaborator to date. Sondheim's compositional style is usually quite complex, pushing the boundaries of tonality. His classical sensibilities allowed him to write at times in a polyphonic style. If you've never experienced any of his works, definitely check it out!