10 Steps to Prepare For a Recital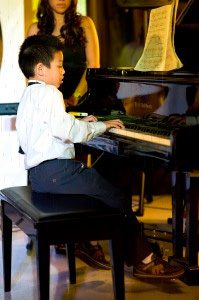 Recitals can be the highlight of the season for many music students. It is your one shining moment to show all of your friends and family your mad skills as you rip through the ivories, shred the guitar, belt out some vibrato and move your bow effortlessly across the strings! But before you step out on the stage, here are a couple of good "rules of thumb" to go by when preparing for that special day.
1. Have a home field advantage
Do you want to give yourself a super charged confidence boost? Nothing else will give you confidence better than having the room filled with your biggest fans. When you come out on stage and see all the people in your life that love you and are chanting your name, you will come out with the confidence of a Spanish Bull Fighter (Matador!) So, what are you waiting for? Get on it! Start inviting everyone you know. Having a home field advantage never hurt anyone.
2. Practice with a metronome
You might hate the eternal ticking box, but it will save your life (ok, not literally, but musically YES). If you have not been practicing with a metronome, it is never too late to start. The metronome will give you solid rhythm and help you feel the pulse of your song. If you can "feel the pulse" in your piece(s), it will give you more confidence in case you have to recover from a mistake. It will also prevent you from rushing through the whole piece because of nerves.
3. Practice like its a performance
They say practice makes perfect but the truth is, "PERFECT PRACTICE MAKES PERFECT". Practice your recital pieces like you are performing on stage in your home. Play with the same emotion, passion, and intensity that you will on that day. Use dynamics, proper tempo markings and articulation (accents, slur markings etc.). How you practice it at home is how you will perform it, so don't just run through the notes, play your pieces with the proper musicality that is expected.
4. Use a Mirror
Almost every musician can benefit from seeing what the audience will see. If you are a singer, string player or a woodwind player this is a must. If you don't have a mirror in your bedroom, than take your instrument into the bathroom! Singers, sorry no excuse for you ☺. A mirror will show you if there are any awkward or distracting movements that you are doing as well as what your facial expressions look like. If you do this, odds are anything that doesn't look natural in a mirror, won't look natural on a stage.
5. Take a bow at home
This might be obvious but practice bowing at home! If you're a pianist, this is very important because you have to get up from the bench and walk out in front of the piano so you can be seen. String players have to put their bows to their side, while saxophone players should know how heavy their instrument is when they bend over.
6. Don't forget your music
(If you don't have it memorized).
The day of the recital has come, your nerves are pumping in your veins, your mind is racing as you run through your pieces in your head trying to remember all of the fingerings, sections to repeat, dynamic markings and different hand positions. So make sure the night before you set your music out in the open somewhere you will see it so you don't forget it. Nothing can be more upsetting that showing up empty handed after you left your music on the piano. Put it in the car the night before if you have to!
7. Sit in Silence
Before you go on stage, find time to be by yourself and block out all distractions around you. Take a walk down the hall, find any empty chair in the back of the recital hall, or find a spot backstage that is away from your friends and family and begin to calm your nerves down. Take deep breaths; in with your nose, out through your mouth; in with your nose, out through your mouth! Yes, it really makes a difference to inhale with your nose.
8. Focus.
When you step out on stage, you will be tempted to immediately scan the room for you family members, and best friends. Instead, focus on your place on stage and ignore who is in the audience. Family and friends can be distracting and you don't want anything to through you off. You don't want to search the room only to find it's too dark and you can't see anyone and then you begin to panic and think that no one was able to make it. Pick a dark spot in the back of room and try and not to make eye contact with anyone in particular. After you are done, then you can make eye contact and look for your loved ones as they will probably be clapping loudly and shouting your name (much easier to find them).
9. Audience of one
Perform your piece for one person. When you are in the moment, after you have played your first note and there is complete silence in the room think about whatever is going to make you most comfortable. For some, imagining you are playing for a parent or best friends seems to make all the people in room just disappear. Others prefer to just imagine it is just them in the room by themselves. Whatever you prefer, think about performing for one person instead of an entire room.
10. Be the Star!
Remember this is your day. You are the star and everyone is there to hear YOU! Walk out on stage with confidence, hold your head up high, have a big smile on your face and show them how talented you are and how hard you have been working for the past couple of months. Everyone wants you to succeed and is cheering you on! Don't forget to take a bow when you bring down the house!
Comments are closed.